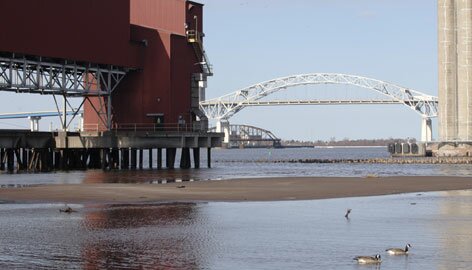 A sandbar rises above water level in a channel between the coal loading dock and grain elevators along St. Louis Bay in Superior, Wis. Lake Superior has 3 quadrillion gallons of water — enough to submerge North and South America in a foot of water. (Julia Cheng, AP)
Dennis Cauchon, USA TODAY, reports:
BARAGA, Mich. — "Where did the water go?" asks Ted Shalifor, manager of a marina and campground on Lake Superior's Chippewa Indian Reservation.
The water on Lake Superior is so low that he couldn't put his docks in the water this year. Where he used to see water, he now sees sandbars.
Lake Superior, the world's largest freshwater lake, has dropped to its lowest level in 81 years. The water is 20 inches below average and a foot lower than just a year ago.
Lake Huron and Lake Michigan are at low levels, as well, although not quite as extreme.
(more…)