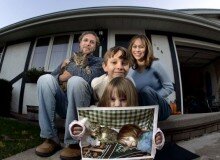 Family Photo (Sharon Cekada/Associated Press)
Associated Press, reports:
APPLETON, Wisconsin — When Emily the cat went missing a month ago, her owners looked for their wandering pet where she had ended up before — the local animal shelter.
But this week they learned Emily sailed to France.
Lesley McElhiney figures her cat went prowling around a paper warehouse near home and ended up in a cargo container that went by ship across the Atlantic Ocean and was trucked to Nancy, a city in northeastern France near the border with Germany.
Employees at a French lamination company found her in the container, checked her tags and called Emily's veterinarian back in the U.S., John Palarski.
(more…)