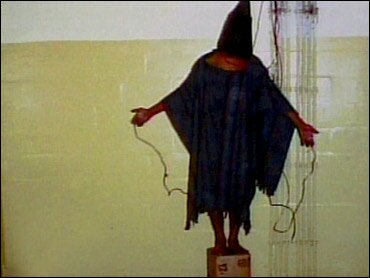 According to the U.S. Army, one Iraqi prisoner was told to stand on a box with his head covered, wires attached to his hands. (Photo: CBS)
(CBS) Last month, the U.S. Army announced 17 soldiers in Iraq, including a brigadier general, had been removed from duty after charges of mistreating Iraqi prisoners.
But the details of what happened have been kept secret, until now.
It turns out photographs surfaced showing American soldiers abusing and humiliating Iraqis being held at a prison near Baghdad. The Army investigated, and issued a scathing report.
Now, an Army general and her command staff may face the end of long military careers. And six soldiers are facing court martial in Iraq — and possible prison time.
(more…)