Thu 3 Jun 2004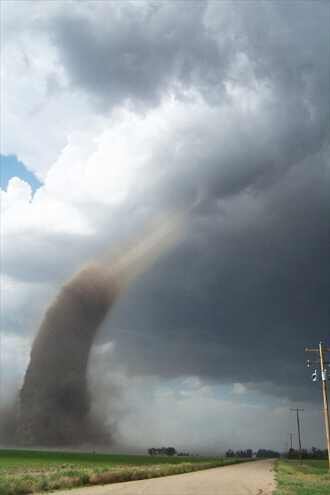 A tornado is too close for comfort as Jo Anne Grady of North Platte takes its picture May 29 near Gothenburg.
The North Platte (Nebraska) Telegraph reports:
On a bright, shiny afternoon May 29, Jo Anne and Wes Grady came upon one of nature's most deadly phenomena: a tornado.

The Gradys were driving southwest of Gothenburg on their way to Peckham Cemetery to decorate Wes' family graves.
Jo Anne said, "We were driving along and thought we saw smoke. When we came to this intersection, there was that tornado."
The tornado had touched down in the middle of a freshly cultivated field along the Banner Road just past the Banner Methodist Church.
"It was so bizarre," Jo Anne said. "Here it was a bright, shiny, beautiful day and there's that tornado just sitting there in the middle of that field."
Wes and Jo Anne watched the tornado from about a third of a mile away. They estimate that they watched the tornado for close to 15 minutes before the tail dissipated and went back up into the cloud.
The Gradys had their camera with them because they were on their way to an all-class reunion for Gothenburg High School. Jo Anne started snapping photos of the tornado from about a mile away, and kept photographing the twister as they drove closer.
Wes said, "The tornado was about 3 miles inside the Lincoln County line."
After watching it dissipate, they thought the show was over, but the twister just moved two miles away.
Wes said, "We thought it was all over, so we went on to the cemetery. It had moved to another field and blew over two pivot towers, and stripped some new corn."
Wes went back out the next day to see what kind of damage the twister had done. He said the tornado also blew debris all over Sid and Jolene Kite's farmstead.
The tornado picked up some of Jim Clark's farm equipment and rolled it into another field half a mile away. The equipment was hard to identify after being mangled by the tornado. It also ripped two round granaries off the foundations and tore them into four pieces.
Wes said he had only seen one other tornado but never this close.
"It was just stationary when we saw it," Wes said. "It seemed perfectly safe. There was no wind or anything."
Jo Anne said, "We didn't hear anything like they say you will. No freight train, no rain and no strong winds. It was scarier driving home through the wind and rain later in the evening Saturday."
Jo Anne said, "I could never be a storm chaser. I don't like driving through rain and wind."
This was the first time Jo Anne had seen a tornado, and she had plenty of time to take a lot of pictures.
"It was a very cooperative subject," Jo Anne said, laughing.